Do you recognise yourself within your brand?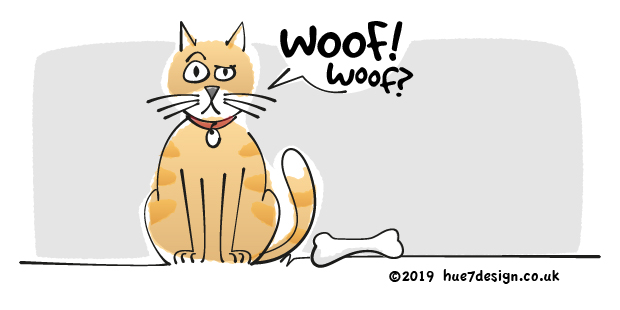 There are some common misconceptions surrounding what a brand is within the context of marketing. In essence, 'brand' incorporates everything that enables customers and employees to form an understanding of the associated business, product or service. A typical brand structure may include a logo, tagline, colour palette, fonts, type treatment, image resource, tone of voice and whatever else is deemed necessary in order to maintain a consistent message to its audience.
As the world has become evermore interconnected, the demand for smaller organisations to find their position in the marketplace comes under increasing pressure. The internet bombards us with reference to companies that have vastly contrasting economic journeys. The difference between success and failure for these organisations is more finely balanced than ever before and from this set of circumstances the phenomenon of brand appropriation is taking hold, blurring the lines between companies and their offerings.
The default position for many large marketing agencies is to start a brand from fresh with new clients, an approach that is understandably unsettling for many businesses. This wipe-the-slate-clean philosophy is something that allows an agency to generate the maximum transitional impact, but whether this translates into a fully justifiable solution … only time will tell. And this is where brand appropriation comes into its own. Instead of performing insightful research on inherent qualities that can be conveyed to an audience, brand strategies become predictable, piggybacking established mainstream brands as a quick-fix route to a lucrative outcome.
"Knowing yourself is the beginning of all wisdom"

Aristotle
One of the most revered brands in global consumerism is that of Apple. Originally named Apple Computer Company, this current day corporate giant has gone through several phases of identity adjustment. From a brand perspective, Apple made its first decisive inroads on the back of an iconic advert screened in 1984 and directed by Ridley Scott. It was a bold, visionary statement that radically shook the foundations of the personal computing market, dominated at the time by IBM and Microsoft. Over the years Apple's fortunes would fluctuate and for much of the 1980's and 90's it would face many economic challenges that could have led to its demise. It was one of the original founders [Steve Jobs] that would eventually establish Apple's place in the market. Through a relentless determination to sidestep convention, Jobs would take the company on a journey that could have easily ended in disaster. However, his efforts that shunned acceptable logic in preference to an ideological goal, gave rise to an organisation that would push innovation and help shape the consumable tech industry.
Today, Apple is seen as a figurehead not only in brand positioning, but in success. You will see many examples of companies that mimic the persona that Apple projects, in order to acquire a sample of that success. Brand appropriation can be a powerful tool for organisations that want to align themselves with industry trends or established likeminded companies. But this approach has its limitations and pitfalls. A brand can only [really] work if the organisation truly buys into the underlying factors and all too often – if this ownership of values doesn't materialise – the brand will inevitably fail.
The branding process is traditionally an exercise in discovery and interpretation, an attempt to find your place in a market and establish an insurmountable grasp on that niche. If you want to fully extend your wings, be honest about who you are and what you can offer.
Brand, Identity, Brand guidelines, Marketing strategy, Brand appropriation
Blog Posts